Posted by WOODROW WALDEN on 2021 Jun 10th
The Blink 500 B4 from Saramonic is a compact, lightweight, and professional sounding two-person wireless microphone system designed for use with iOS devices, specifically the Apple iPhone and iPad.
The system features two transmitters and an RXDi MFi Certified Lighting receiver that connects to an iOS device via the Lightning Port.
The sub-compact wireless transmitters are small enough to clip to a shirt or slide into a pocket and can also be set on a table or podium and even be used handheld.
The transmitters feature a built-in, omnidirectional microphone that is used when clipped to a shirt or collar.
They also operate as traditional bodypack transmitters when used with the included omnidirectional clip-on lavalier microphones.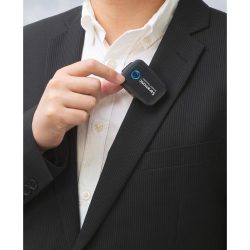 The RXDi dual-receiver plugs directly into the Lightning port of a compatible iOS device and draws power from the device itself, eliminating the need for batteries.
One of the best things about the 500 B4 is its simplicity, with most of the heavy lifting in terms of set-up taken care of automatically by the software.
Operating on the interference-free 2.4GHz spectrum, the 500 B4 automatically hops channels to avoid static noise and audio dropouts.
Pairing the transmitters to the receiver is simple, all you have to do is plug it into your iOS device and press the pairing button on the transmitter. The software takes care of the rest.
Controlling audio levels has never been simpler, with the easy-to-use gain buttons that raise or lower the levels at the touch of a button, and an intelligent LED display that shows you where they're set.
Rechargeable internal Lithium batteries provide up to 5 hours of life from a full charge, and the USB-C charging ports can also be used to power or recharge the transmitter out in the field via your favourite portable USB battery pack.
The transmitter's 10-milliwatt power gives the 500 B4 an operational range of up to 30 meters (98 feet) in spaces with obstacles, and up to 50 meters (164 feet) in wide open spaces.
Finally, one of the biggest benefits of the 500 B4 receiver's tiny size is that if you work with your device attached to a gimbal, it won't throw the balance off or interfere with the motors or arm of the gimbal it is mounted on.