Posted by WOODROW WALDEN on 2021 Jun 9th
The Blink 500 Pro B2 is an advanced 2.4 GHz dual wireless system that allows you to capture two audio streams to cameras, mobile devices and more!
Ideal for 2-person interviews and capturing dialogue from broadcasters, online content creators, and filmmakers, the Blink 500 Pro B2 is a lightweight, ultra-portable, dual microphone kit featuring two transmitters and one receiver along with two pro-grade lavalier microphones.
Thanks to the included TRS or TRRS (3.5mm) output cables, the 500 Pro B2 will work with any camera, computer, recorder, mixer, smartphone or tablet that features a headphone jack.
Newer iOS/Android mobile devices that don't feature a headphone jack can also by using a (sold separately) Lighting or USB-C Blink receiver.
Both transmitters and the receiver feature a bright OLED display displaying pertinent information such as battery life, signal strength and audio levels.
The transmitters feature a built-in omnidirectional microphone, with a sensitivity of -39dB providing crystal clear, dynamic sound quality and can be clipped onto a shirt, a collar or hidden away in a shirt or jacket pocket.
They can also be used as a more traditional bodypack when used with the included omnidirectional lavalier microphones.
Unlike the regular 500 B2 version, the Pro B2 features a selectable Mono / Stereo output setting. This provides the ability record each mic to separate channels via camera and/or recorder mic inputs (when using an additional TX transmitter) and edit them as individual audio channels in post production.
The Pro B2 features a battery life of up to 8 hours, a range of up to 100 m (roughly 330 ft).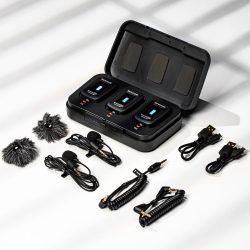 One of the coolest feature of the Pro B2 kit is it's unique charging case that utilizes a rechargeable 1200mAh internal battery to charge the units when not in use.
The case also allows for one button pairing without having to remove the units from the case itself.
Key Features
Ultracompact, lightweight and incredibly easy-to-use advanced 2.4GHz wireless system that delivers broadcast-quality sound of 2-people to cameras, smartphones, tablets, computers and more
Transmitters (TX) have a built-in mic and can be clipped to shirts and clothing or used as a belt pack with the included professional lavalier microphone. They also feature selectable mic or line-level input and vivid OLED display
Camera-mountable dual receiver (RX) features Mono/Stereo output setting, headphone output, vivid OLED display and includes both TRS & TRRS output cables for compatibility with any device with a 3.5mm input
Features up to 8-hour battery run time, 328-feet (100m) range, portable charging carry case, and automatic channel switching to avoid static and dropouts
Transmitters and Receiver charge in the included 2000mAh portable charging carry case while plugged in to power, or remotely and can be individually powered while in use with a USB power bank