Posted by WOODROW WALDEN on 2021 Jun 16th
The Saramonic VGM is an "all-in-one solution" smartphone and camera production tool geared towards vloggers and video content creators.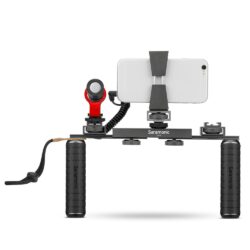 Compatible with smartphones, compact digital, mirrorless or DSLR cameras and even action cams, the VGM offers a complete stabilization, accessory mounting rig and microphone solution designed to help users create stable and great sounding videos.
The VGM features a 120mm (4.72") shoe mount top rail, with 2x 120mm (4.72") sliding bottom rails with 7x 31.57mm (1/4")-20 threaded holes, 2x cold shoe mounts, 2x grip handles and a wrist strap.
It also includes both an adjustable clamp for smartphones and a 31.57mm (1/4")-20 mount for cameras.
---
The handle can expand from a minimum width of 120mm (4.72") to a maximum width of 315mm (12.4"), and can be configured for two-handed or single handed operation based on shooting needs.
Both handgrips feature 31.57mm (1/4″)-20 bottom threads providing the option to mount the VGM to a tripod or stand.
But what makes the VGM so appealing, is the shear versatility of accessory mounting possibilities thanks to it's shoe mount top rail, sliding bottom rails, cold shoe mounts and handgrips.
With all of these mounting options, users can mount accessories such as a compact LED light, an HDMI monitor, an audio mixer, a power bank, and a wireless microphone receiver separately or even all at the same time!
---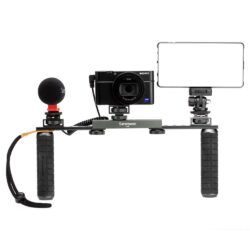 As mentioned, the VGM comes as a kit which includes Saramonic's Vmic Mini, a broadcast-quality, camera-mountable cardioid condenser mini shotgun microphone.
The Vmic Mini features all-metal construction, an integrated shock mount, and advanced windscreen.
It includes both TRS and TRRS output cables which are compatible with cameras or smartphones with a 3.5mm mic input or headphone jack.
If using a (newer iOS or Android) device that doesn't feature a 3.5mm input, you will need one of Saramonic's Lightning to 3.5mm or USB-C to 3.5mm adaptor cables (not included) in order for it to work.
Saramonic VGM Key Benefits
A complete stabilization, microphone and accessory mounting solution for Smartphones, Compact Digital, Mirrorless, DSLR and Action Cameras
Includes the Saramonic Vmic Mini camera-mountable cardioid condenser mini shotgun microphone for detailed, broadcast quality sound to smartphones and cameras
Completely customizable rig that offers one or two hand stabilization and multiple configuration options to meet your shooting needs from vlogging to cinematic filmmaking
Numerous accessory mounting and expandability options for LED lights, HDMI monitors, audio mixers, power banks, wireless microphone receivers and much more.
Uniquely versatile, the VGM can be configured from a minimum width of 120mm (4.72") to a maximum width of 315mm (12.4") within seconds and can be easily mounted on a tripod or stand